by johnmarkwatson on May.17, 2017, under Amyloidosis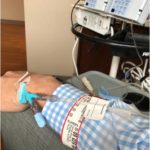 Yesterday's treatment was completed with a lot less drama than the previous treatment. I still have atrial flutter and an irregular heartbeat but hopefully with some improvement.  I am able to work, do light exercise and day to day living with few issues.  I do have some discomfort, but I can live with it for now.
I have another treatment on June 5th and then a week later with my cardiac electrophysiolgist.  If the flutter is not cleared up by then, he may want to do another ablation.  While I am not looking forward to yet another procedure, it is just another step down this amyloidosis road.  It has to be traveled.  The constant flutter in my chest wears on me by the end of the day and there is concern that it could get worse if not dealt with.
While I was getting treatment, I received a text from a pastor friend, Josh Patrick.  He asked me how I was feeling and how could he pray for me.  What makes that text so special is that Josh is dealing with colon/liver cancer and yet still serves others at Harpeth Christian Church in Nashville, Tennessee.
One of my favorite things that Josh posts on his Facebook page is asking others to pray that God be glorified through his cancer.  While I'm not sure my faith is that strong, I hope to be able to do the same with amyloidosis.  Thanks Josh for your influence!
:Amyloidosis, Treatment