by johnmarkwatson on Jul.20, 2017, under Amyloidosis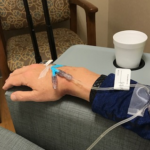 It's been a busy couple of weeks around the Watson house.  Last week on Tuesday the 11th, I had a cardiac ablation (again).  It was an overnight stay due to risk of bleeding out.  I had to lay still for 12 hours after the procedure and as you can imagine, I've never been still that long in my life.  So far so good on clearing out the afib.  I've had a couple of small episodes, which is normal right after the procedure. I'm optimistic.
I rested up a couple of days and then traveled to Arkansas to speak at the funeral of Ethan Busby, a man that may have influenced my life as much as my father.  It was a quick down on Saturday and back on Sunday.  Stacie drove so I could rest as much as possible.
On Monday the 17th, I returned to Mayo Clinic for my regularly scheduled infusion.  All went well with that process except I might have overdone it a little with all the heart procedure and travel.  I did fine until Tuesday at about noon at  which point I crashed.  That normally happens but usually not until 4-5 days after treatment.
Even though it has been a rough couple of weeks, I am thankful.  It appears all is going as well as expected but only time will tell.  Thanks to all of you for your prayers!
:Amyloidosis, Treatment