by johnmarkwatson on Jun.12, 2017, under Amyloidosis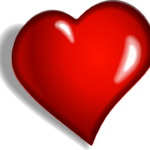 A new update on the Afib. I returned to Prairie Heart today to see about correcting my atrial flutter. They were able to witness it firsthand via the pacemaker reading. It's a mystery why some days are perfect and other days are well. . . not so perfect. They determined that they will perform another cardiac ablation on July 11th. This is not without risk but given all my other issues, this seems to be the best of a bad thing. This particular type is a little more serious and will require an overnight stay. They were able to work this around my chemo schedule and everything should be good to go. So one more month of this before relief is in sight.
Prayers for a safe procedure and quick recovery are appreciated.
:
Heart