by johnmarkwatson on Aug.09, 2017, under Amyloidosis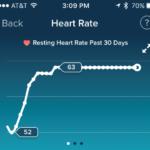 This is a screen shot of my heart rate post ablation. It has settled into a nice 63 beats per minute. Before the ablation it was all over the place. Some high, some low, and some irregular. This is a reading from my Fitbit and as some snooty medical people remind me, "that is not a medical device!"  It may not be but it definitely shows a good trend.
I return to the electrophysiologist tomorrow and hope he will confirm what I already feel and see – no more afib. He has already said he won't declare victory for 90 days, but this gives me hope.  They currently have me on meds that help regulate the heart rate but have reduced the dosage significantly.  The meds cause some discomfort but are well worth the results if I need to continue long term.
I had chemo on Monday and got a good report from my exam.  All seems to be going well and everything is still stable.  They were pleased with the heart rate and think everything is going as planned.
Thanks for all your thoughts and prayers.  Let's keep this good trend going!
:
Treatment