by johnmarkwatson on Jun.26, 2017, under Amyloidosis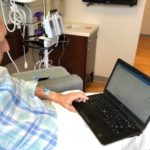 It was a good day.  No unexpected issues found during my physical and today my heart is beating correctly.  It seems to have a mind of its own, beating correctly for a few days and then poof!  I wake up in flutter.  This phenomenon usually happens about 2:30 to 3:00 in the morning.  No clue why.
I am scheduled for the cardiac ablation on July 11th in an effort to rid my heart of the flutter.  I am so ready to give this another try.
Please keep me in your thoughts and prayer as the next 3 weeks crawl by.
:
Amyloidosis