by johnmarkwatson on Apr.15, 2017, under Joyous Leadership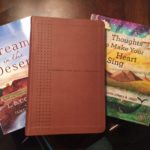 Sometimes you receive encouragement at the most bizarre times from people you least expect. A couple of weeks ago when I was really struggling, I received a devotional book in the mail called Streams in the Desert by L.B. Cowman. It is a 366 day devotional for individuals going through difficult times. What made this so special was that Brooks Evans sent this along with another book. She said that she and Phillip read it daily as they were going though his last days here on earth. Even though Phillip only passed away a short three months ago, Brooks is already ministering to others.  She followed that up with a text saying "Thankful for Easter more than ever this year.  I bet you are too.  Thankful He is and will continue to make all things new."  Wow!  To have a faith like her and Phillip have.
Then yesterday I received Tony Dungy's The One Year Uncommon Life Daily Challenge from my cousin Karen.  The cool thing about this gift is that Tony Dungy is one of my all time favorite football coaches and human beings in general.  He has faced some dark and challenging times in his personal life and yet endured it only to become stronger.  I already own a couple of his books, so this was icing on the cake.
Let's all remember our job on this earth is to care an encourage one another till we can make that final journey.
Happy Easter!
:Easter, Joyous Leadership