Archive for August, 2017
by johnmarkwatson on Aug.21, 2017, under Amyloidosis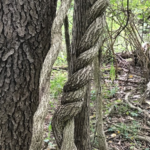 Next Monday will mark my 37th chemo treatment. . . but who's counting, right?  It's been a little over 2 years since I started treatment for this wretched disease and here are 5 things I've learned.
1.  It's a marathon, not a sprint.  Before this disease I used to run Marathons.  While all that training may have been good preparation, it pales in comparison to this.  In marathon training, there are "off days" or "rest days" but with this disease it's 24/7.
2.  I need to rely on others.  This is something I'm not very good at and hate every second of it.  I would much prefer to be the giver and not the receiver.  I think this has more to do with loss of control than anything.  I was in the Board room a couple of weeks ago and bent down to increase the volume on our audio system when I realized I couldn't get back up.  Luckily, one of my colleagues recognized my predicament and nonchalantly gave me a boost from behind so I didn't embarrass myself too much.
3.  I must learn to make a "new normal" life.  I've heard this phrase from people who have long-term debilitating illness since I started this journey.  I now get it.  While life may never return to what I once had, I need to find ways of making a new way of life, a new normal, for both me and my family.  For me that means fewer and different activities.  I was joking with a friend of mine who turned 50 last month.  He is a beast of a fitness guy but age does change us.  I texted him and asked if it were true that he was now the big 5-0.  He responded, "Yes.  Ugh, I'm deteriorating faster than I can lower my standards."  He was half joking of course but I get it.
4.  Life has no guarantees.  I find myself thinking of a lot of conditional "what ifs" but I'm learning to stop.  I can't control the "what ifs" or what the next procedure brings.  I must try and be content in the moment.
5.  There can be beauty in difficulty.  I was hiking the other day (I use that term generously given my lack of ability to walk very far) and saw the twisted vine in the above picture.  After the hike, I reflected on the photo and realized the difficulty this vine faced to be able to grow this way.  I'm sure the vine would have preferred a more straight and easier path.  Had that happened, it would have been just a vine, instead it was a beautiful work of art.
The apostle Paul asked Jesus 3 times that his affliction be removed.  But Jesus responded, "My grace is sufficient for you, for My strength is made perfect in weakness."  II Corinthians 12:8-10.  Maybe I can learn perfection in weakness. 
2 Comments
more...
by johnmarkwatson on Aug.09, 2017, under Amyloidosis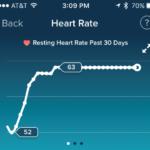 This is a screen shot of my heart rate post ablation. It has settled into a nice 63 beats per minute. Before the ablation it was all over the place. Some high, some low, and some irregular. This is a reading from my Fitbit and as some snooty medical people remind me, "that is not a medical device!"  It may not be but it definitely shows a good trend.
I return to the electrophysiologist tomorrow and hope he will confirm what I already feel and see – no more afib. He has already said he won't declare victory for 90 days, but this gives me hope.  They currently have me on meds that help regulate the heart rate but have reduced the dosage significantly.  The meds cause some discomfort but are well worth the results if I need to continue long term.
I had chemo on Monday and got a good report from my exam.  All seems to be going well and everything is still stable.  They were pleased with the heart rate and think everything is going as planned.
Thanks for all your thoughts and prayers.  Let's keep this good trend going!
9 Comments
:
Treatment
more...